Welcome to
Custom Quilters
We'll help turn your work of art into a treasured heirloom.
682-241-1349 ~ info@customquilters.com

Custom Quilters is a NON-SMOKING professional quilt finishing service.  Partner with us and be confident that your quilt is insured while in our care and will be treated with highest regard. 

At this time, with the purpose of maintaining our high quality, we are unable to accommodate new customers.
Custom Quilters

believes the quilt we are working on is the most important quilt in the world!  Each quilt gets individual, undivided attention throughout the quilting process. 
Existing Customers Please call to reserve times.
Thanks for visiting
Take your time and enjoy.  Please feel free to call or e-mail Custom Quilters with any questions about machine quilting, longarm machines, computer designs or quilt finishing.
Want something special - Earn free quilting. Call or e-mail TODAY!.
Bringing your Quilts to Life
Custom Quilters provides a variety of styles, all over machine quilting designs, Motif / Block, Stippling, Meander, Borders, Pantograph/Edge to Edge, and Custom Quilting. Please see our designs and services page. Quilting services include the free designs** listed.
"I had the opportunity to meet Mark after my grandma passed away in November 2010.  She left a quilt for me that was not finished. She had the top part put together but needed the backing and the filling completed.  I having no experience with any of this found Mark to be very informative.  I am a visual person and he catered to that so I would understand what the quilt would look like when it was complete.  The quilt turned out better than I could of ever expected. My grandma would be very proud it was completed.  It brought tears to my eyes and I will forever have her with me because of this quilt.  I ended up having her name, dob and her date of death embroidery on the quilt. He gave me something to remember my grandma by and I cannot thank him enough."  Laura
Some of our partners, click to see larger image. Visit our Webshots page.
Amy from Houston
Carol from New Mexico
JPS charity quilts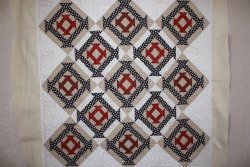 Charity Wounded Warriors
Sara from Fort Worth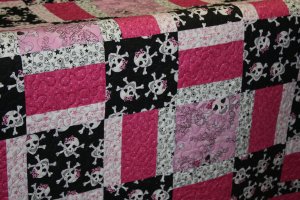 Debbie from Arlington
Marsha from California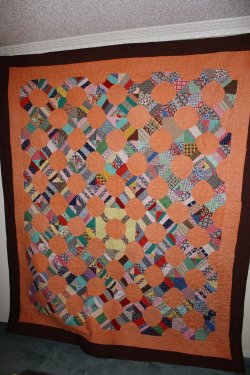 Grandma's top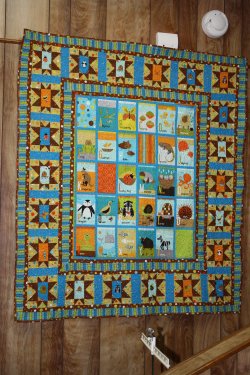 Commissioned Baby Quilt
Custom Quilters provides Edge to Edge, overall Quilting with a quick turn around time. We use a computer-guided longarm quilting machine for greater precision.
Custom Quilters can create custom designs to coordinate the artistic elements of your quilt.  You may also provide your own designs.  We can assist you in selecting the perfect quilting design that enhances your quilt and meets your budget. Balancing computer design precision and flexibility of freehand design, our industrial longarm A1-Elite is equipped with CompuQuilter providing precision and detailed computer designs. Please contact us for free estimates.
** Designs remain the property of the artist and Custom Quilters.